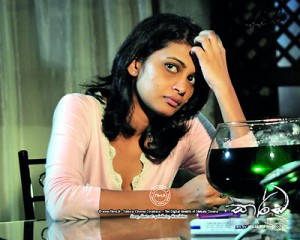 Making movies takes different shapes. Some are aimed at satisfying the popular market while there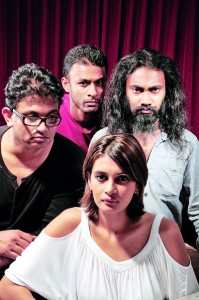 are a few others who aim at making artistic quality productions that please the aesthetic appetite. 'Karma' which was directed by Prasanna Jayakody as his second film had an additional aim, that was to reach international cinema and attract international producers. Rasitha Jinadasa one of the co-producers of 'Karma' shared with the TV Times the long term target to promote the country's cinema internationally.
"Prasanna revealed the idea of 'Karma' in 2007when we were going around the world with his first film 'Sankara'" said Rasitha who also runs his own TV production house.
"What we learnt from screening 'Sanakara' in foreign festivals was that there are many funding agencies out there to fund independent art house movies,"
Inspired by this discovery Rasitha and Prasanna started developing the film from 2008 which was completed in 2010.
"Prasanna's first concept of 'Karma' was not similar to what we see today but a story with similar sub plots," Rasitha who had been working with Prasanna in the same video production house for a long time said.
The story of 'Karma' was not a new plot to the world. They may have come across a similar plot from different filmmaking from other parts of the world. The international producers always look for films that are unique for their culture and Prasanna's first film 'Sanakara' is such a film.
However 'Karma' could not be stopped and the duo decided to continue with it with the support of two other producers CEL and the Magic Lantern.
Rasitha revealed one of the major problems in attracting international producers for Sri Lankan cinema. Despite whatever
"Years ago the Iranian cinema had the same problem and there was a certain time in which nobody knew about Iran as a filmmaking country. But today everybody knows about Iranian cinema. So Iran also went through a similar period,".achievement Sri Lanka has reached, international cinema is yet to recognise ours as a country that makes films of a unique identity.
"One producer I met at an international film festival said 'You try to break this barrier and you might not be the ones who are going to be benefited but the future generation of Sri Lankan cinema," Rasitha said.
However the young filmmaker is optimistic about Sri Lankan cinema and its achievements.
"We make about twenty films a year and out of them about five films are really good, classic films and they go to international festivals. So as a percentage this is really good. When we compare this number with India which make around 2000 movies a year but not even 10 to the world, but Sri Lankan filmmakers are quite creative and we are somewhere there in the frontline in making creative films.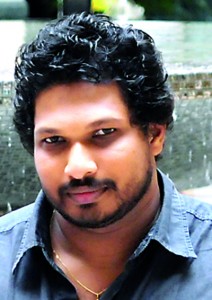 Coming back to 'Karma' and selecting its three member cast including two newcomers to cinema, Rasitha said "We had a hard time in selecting the main female role of Amanda. After a long search Prasanna had seen one of the shots of Michelle Herft who also had played in the commercials we did. Michelle had only worked in the English theatre in addition to be an English teacher and was bit reluctant at the beginning. But when she went through the script which was quite challenging she wanted to accept it."
Selecting the music director Nadeeka Guruge too was quite interesting. We wanted a name for the character of the easy going musician and we decided to use 'Nadeeka' who was also music director of the film. As the search continued Prasanna came up with the idea why don't we try Nadeeka himself as the character was a musician who wanted with similar physical features.
If we can get an international producer that would be a huge success. The amount of money they spent is 100 times bigger than our normal film. They do produce films and they want right only for their country.
Having failed with an international producer As a production company we wanted to complete the film with the support of other producers and the CEL and the Magic Lantern got in as producers.
Prasanna I work very close because we worked very closely for a long time.
I liked the plot.
We did the film and took a number of festival to get a sponsor we realised that it was not easy. But we did not want to give but to have an international production happening here. May be not Prasanna may be with someone else.
There is a lot to learn from the international.
I don't believe in making films
We should make a film that is in international standard and if the film is really good there will be people to buy. Every year there are different types of films
Our target should be to do a film that could win the hearts of the people.
A co-producer of 'Karma' reveals how the film came into being
http://www.sundaytimes.lk